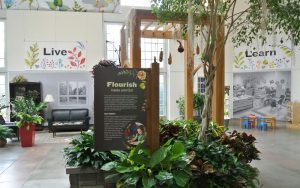 People flourish when they interact with plants and nature at work, at school, and in their homes. Demonstrating how they can do that was the goal of Flourish Inside and Out at the United States Botanic Garden on the Capitol grounds in Washington, from May through October, 2016.
Creating Flourish was a two-year project. Starting in 2014, my staff and I acted as the principal project consultants. I shared research about the benefits of nature and gardening with the exhibit planners and helped them to think through the exhibit messaging. Our Design Consultant and Manager, Clare Johnson, helped them with the exhibit designs. These consisted of a series of vignettes inside the main conservatory building plus demonstration gardens outside.
I also drew on my career as an Occupational Therapist to help the  US Botanic staff ensure that all areas were accessible to those with mobility or sensory differences or challenges, and that the gardens themselves could be planted and maintained by staff and volunteers with various disabilities.
Finally, I presented two public programs within the conservatory building: How Does Nature Impact Health? and Gardening as We Age, while Clare presented a Therapeutic Garden Design Workshop.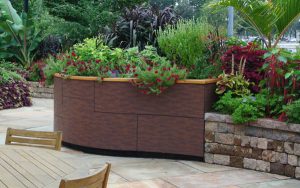 Learn more about the exhibit.