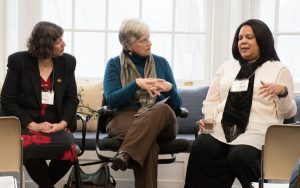 Recently I had a chance to moderate a thought-provoking discussion between two local artists on nature and healing.
It took place in February at the Brushwood Nature Center outside Chicago, at an exhibition of the work of  Stephanie Rose Bird and Gabriella Boros. I introduced each artist, asked them questions and worked to bring the audience into the discussion.
Each artist takes a very different approach. Gabriella spends months researching her detailed, white on black woodcuts, each of which explores a healing plant and its meaning in a specific culture. Stephanie paints colorful, abstract acrylics that express the feelings she experiences in her garden.
My goal was to prompt each woman to open up about how and why she creates her work, and how it can help us understand how we relate to nature.
You may enjoy watching the discussion on YouTube.
And here's a description of the exhibition.