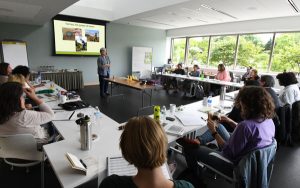 Over the last 10 years, we've made great strides in understanding the role of nature in our health, our productivity, and our ability to learn. Yet much work remains to be done, and so we need more people to expand and apply our knowledge.
This year is my ninth teaching the Horticultural Therapy Certificate Program for the Chicago Botanic Garden, although it's my first as an independent contractor.
I took over the program in 2010 and completely rebuilt it. Prior to 2011, the program was residential, with students working at the Garden for 16 weeks to complete the requirements for an HT Certificate. This schedule was difficult at best for those already working full time, for example therapists, nurses and other professionals interested in adding nature-based modalities to an already successful practice.
The current curriculum, consisting of three college-credit classes taught over a full year, is a hybrid of online and face-to-face work. We begin with a three semester-hour online class on basic horticulture, followed by four-hour and five-hour classes which I have taught. These cover the research basis, evidence-based practices, therapist-client relationship, assessment, documentation,  therapeutic, social and vocational models, program development, accessibility, body mechanics, and garden design. Each of these includes four days at the Garden devoted to experiences that would be impossible to replicate online, including conducting sessions with groups of clients, a field trip to several therapeutic gardens, and working in a small group on garden designs.
The class has been extremely well received, growing from seven applicants in 2011 to nearly 70 in 2019. My former students include a neurologist, several teachers, social workers, entrepreneurs and two chaplains. One graduate developed a non-profit nursery center for adults with special needs. Another runs a farm program for special-ed high school students. Many have added horticultural therapy techniques to their therapeutic practices.
With my new company, I hope to expand this vital work to offer new programs with new partners. Possibilities include a new and updated HT Certificate Program, workshops and CEU classes.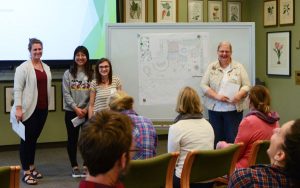 Contact me to explore educational ideas and opportunities.